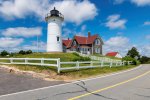 Cape Cod is known for the picturesque lighthouses. Now known more of a tourist spot, historically, lighthouses were used for navigational purposes. Sea captain's relied on them so they didn't run into the coastlines or big rock formations. Lighthouses became less and less of a necessity for safety as technology advanced, and now lighthouses are a popular attraction on Cape Cod for locals and tourists alike.

Cape Cod's Most Iconic Lighthouses
Nobska Point Lighthouse
This lighthouse sits between Vineyard Sound and Buzzards Bay and first opened in 1826. It was first opened as just a lighthouse with an inn keeper's house above it. Then a 42-feet cast iron tower was added to the lighthouse. The Nobska Point Lighthouse is now in the National Register of Historic Places and a great place to see the cape's beautiful landscape.
Chatham Lighthouse
The Chatham Lighthouse is located right on the "elbow" of cape cod and during the summer months there are daily tours. This lighthouse opened in 1808 and was completely wooden. In 1841 the lighthouse was completely redone and another tower was added. This lighthouse is a favorite today and has a large public telescope to look for dolphins or whales out on the horizon.

Nauset Light
Nauset light is known as one of the "classic Cape Cod lighthouses" and it sits on the outer cape. Some of the most beautiful cliffs are right under this lighthouse. There is a public beach right near this lighthouse so you can see the lighthouse and make a day enjoying it's view.
Highland Light
The Highland lighthouse was previously referred to as "THE cape cod lighthouse" because this was the first lighthouse on the cape, opening in 1797. You can see how erosion takes over, this lighthouse used to sit on a lot of acres but now the site is only 10 acres. There are tours that run May - October and they're run by the National Park Service.
Race Point Light
Race point lighthouse is located in Provincetown, MA and there are three lighthouses that sit on this lighthouse. To see this lighthouse up close, be ready for a hike. It's still even during the day a beautiful sight at a distance.
If you want to see all of the lighthouses that line Cape Cod's coastline, stay with the Sea Meadow Inn! We were first built in 1780 by a sea caption. If you have questions about our inn or how we can relate to the lighthouse history, just ask! You can contact us online or call us at 508-896-2223. Don't forget to book your reservation directly on our website for the best available rate!